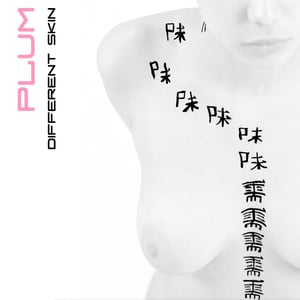 £

8.00
Critically acclaimed album "Different Skin" released November 9th 2009.
Reviews:
"Her music is fresh and modern, mixing folksy electronica with trip hop. Listen to 'As trains pass by' and you'll easily pick out her amazing grasp of percussion. And yet her words and performance are suggestive of a world-wise head on young shoulders. The album, 'Different Skin' is varied enough that it never bores, never feels samey and flickers from genre to genre like a butterfly. Plum is a cool customer indeed and I would have to recommend Different Skin. Here is a record that could melt even the most cynical heart. Strong songwriting, originality, personality and charm. The girls are back in town". sic Magazine
"Need a wonderful, interesting, beautiful, eclectic, exciting album? This is the Plum choice, no question. With Jazzy voice, deep sensibilities, deeper sound and rolling, sumptuous production, Different Skin is a rare thing: an album that works on practically every level.
The songs are close, whispering softly and surreally in your ears, then suddenly they are tall, majestic, towering things with epic but benevolent eyes that demand you worship them before they transform into a warm, affectionate friend who puts their arms around you and scares the shadows away.
This is large scope, huge sound and massive-heart-music. Liquid, flowing tunes, soft and sensual lyrics, clinking sounds and soothing ambience; the lyrics are charming, poetic and wise, and yet Plum is not afraid to embrace the instrumental, the auditory exploration and the uncharted soundscapes and earthy madrigals of her imagination.
Strong fully-formed song-writing and beautifully executed production show her reticence, her control, her restraint but allow her skills and talent to overflow just the right amount to create mellow, multifaceted and expressive songs. Perfect for a cold wet day where you're not outside but safe in the warm, this playful and dreamlike album will transport you to better, safer and warmer places in your heart, mind and soul" Bearded Magazine
"Plum transcends the typical female singer/songwriter template to create a desolate, lonely and lovely sound. Portishead is a clear influence, especially evident in opener Goosebumps, which pairs a dark trip-hop beat with themes of rejection and longing; the looping vocals and minor chords of Connor nod to recent Radiohead. Plum's haunting voice floats somewhere between KT Tunstall and Bat For Lashes, and affects most on the title track where she harmonises with several apparition-like tracks of herself" The Skinny
""Like a songbird rising out of an ash-filled forest, Scottish songsmith Shona Maguire, AKA Plum's, debut recording has a soaring beauty that's undercut with dark tripping electronic beats. And it's this idea of duality – of its tone, genre and even gender that shapes the whole album.
She's lyrically delicate but instrumentally brutal. And, as the first lady to grace the soon-to-be-closed catalogues of contemporary electronic label Benbecula, she's obviously got the balls to push it forward.
With reminiscent notes of Portishead, Bat for Lashes and Lamb, Plum's music has that emotively romantic kind of touch. By using live synth and drum samples layered together with delicately reverberating acoustic riffs she creates the dark throbbing, sonically arousing undertones. Then, smothered over that, come her velvety vocals gliding through to create a hauntingly emotive wall of sound. A progressive folksy, electronica/trip hop sound that's nothing short of breathtaking.
Layered melodies, wrapped in harmonic little sound samples tingle down your spine in 'Different Skin'. 'Connor' has a darker tonal rhythm, gothic keynotes and eerily dripped click clack beats and bobs; whispered spoken word lyrics meshing and melding with the rhythm – "each movement aches as the pain gets thicker" / "cruel splashes of hope spilling beautiful beams.
Ending with a factory line of fabled goodness. 'Sparkled with Rain' is so perfectly built and driven it's at once reminiscent of a a Tim Burton children's book remake as well as a subliminally recorded double sided track – the vocals, "distracting myself with imaginings" only adding to the dark, thought evoking sounds. Awesome". Rivmixx Magazine
"The music is an amalgam of string folk and eletro-glitch done to wonderful results. While not always my cup of tea, sporting a melancholy sort of romanticism, the production and engineering are undeniably spot-on. There's a finely tuned balance between the two genres highlighted by angelic and ethereal vocals which carry the record through mostly superb songwriting. While those of us who prefer our sounds a little more to the gritty side, I find it hard to reject out of hound the profound beauty this music represents. Innovative meter composed of unorthodox means lend the overall effect and singular celestial quality. I can't help but recommend this to people who have an unapologetic purple streak run through their sentimental veins" Foxy Digitalis